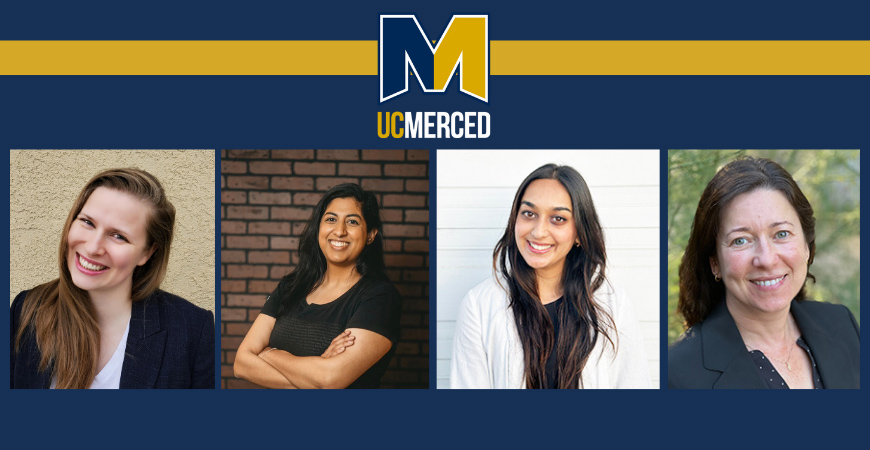 Four UC Merced graduate students can focus fully on their research and academic studies this year thanks to a generous gift from the Northern California Chapter of the Achievement Rewards for College Scientists (ARCS) Foundation.
ARCS, a national organization established and operated entirely by women, is committed to the advancement of science in the United States by financially supporting distinguished graduate students in science, technology, engineering and medical research disciplines at its partner institutions.
UC Merced was named a partner university by the ARCS Foundation in 2022 and the 2023-2024 academic year is the campus' second time awarding the fellowship.
"We are grateful for our partnership with the ARCS Northern California Chapter advancing science and engineering graduate education in the Central Valley," Vice Provost and Dean of Graduate Studies Hrant Hratchian said. "The ARCS Foundation's generous fellowship support helps eliminate barriers and empower our graduate students to further propel their research."
This is Ph.D. student Zunaira Iqbal's second year as an ARCS Scholar. Her research with Cognitive and Information Sciences (CIS) professors Kristina Backer, Antoine "Tony" Shahin and Michael Spivey focuses on Spanish-English bilingual speech perception — specifically how various factors, such as visual information and attention, influence bilingual phonetic perception.
"It is such an honor to receive the ARCS fellowship and to be recognized for my language neuroscience research," the Fremont native said. "This scholarship allows me to focus on my research and additional opportunities, such as applying to postdoctoral programs."
Environmental Systems Ph.D. candidate Hope Hauptman, who grew up near Pasadena, is an ARCS Scholar funded by the Danaher Foundation for her research on clean drinking water for all. She is a second-year recipient of the ARCS fellowship.
"Receiving the ARCS award for my research underlines the urgency of researching safe drinking water access," she said. "The support has meant a lot to me because I feel very strongly about using our time and resources to address the fact that approximately a million people live without clean water sources in California."
She focuses on co-designing sustainable and culturally sensitive Food-Energy-Water (FEW) systems with communities. Her research in Professor Colleen Naughton's FEWS-US lab applies machine learning models to 1,2,3-Trichloropropane (TCP) contamination in the Central Valley and tests the efficiency of point-of-use filters and biochar derived from almond shell byproducts for removing TCP from drinking water.
"The ARCS fellowship has allowed me to complete my experimental research, discuss it publicly and focus my attention on writing my dissertation," Hauptman said.
Alauna Wheeler grew up near Salt Lake City, but she and her husband have called Merced home since starting graduate school together in 2017.
Wheeler, a physics Ph.D. candidate who was named an ARCS Scholar for the second year, studies the fundamental physics behind the self-assembly of biological and non-biological microstructures with Professor Linda S. Hirst. These structures include membranes such as human lung surfactant and the outer membrane of a COVID-19 particle, as well as microstructures made of nanoparticles in a liquid crystal solvent.
"The last six years of my Ph.D. did not go the way I expected. Receiving the ARCS fellowship has given me the support to keep working on my research and finishing my degree while dealing with family and mental hardships," Wheeler said. "The ARCS community has been so uplifting, renewing my confidence in my ability to succeed as a researcher and a mother."
Arabi Seshappan is a first-time ARCS Scholar and a physics graduate student who is working with Professor David Strubbe. Her ARCS fellowship is funded through Agilent Technologies.
For her research in computational condensed matter, she uses methods of density functional theory and many-body perturbation theory to study materials. Her recent research focus has been looking at defected solids to find possible candidates for qubits (quantum bits).
"This award has been an amazing gift in so many ways. I'm so grateful that I was recognized for the work I've been doing in the Ph.D. program, as I head into my fifth year," said Seshappan, who is from Fremont but now calls Merced home. "Moreover, I'm grateful to now be a part of the ARCS network, which consists of so many accomplished scientists in varying fields."
The ARCS Foundation has also been instrumental in connecting her and other scholars.
"My aspiration is to become a research professor at a minority-serving institution, and the support of the ARCS fellowship and network will help me take the next steps towards reaching that goal," Seshappan said.
 
This scholarship allows me to focus on my research and additional opportunities, such as applying to postdoctoral programs.